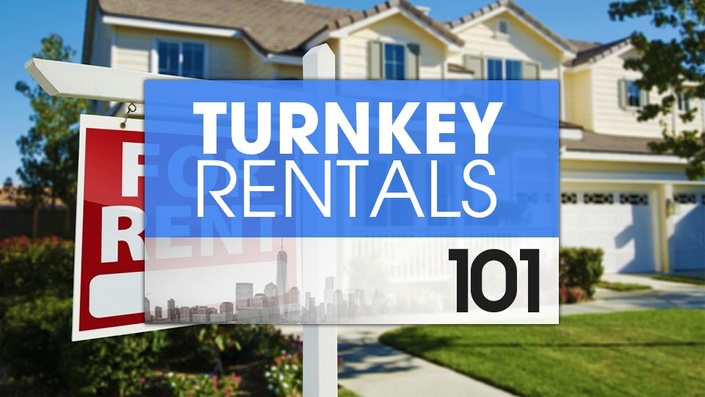 Turnkey Rentals 101
How to find, analyze & buy out of state turnkey properties and earn passive income from day one.
Get the Knowledge, Tools & Confidence to Buy Your First Rental Property This Month!
Investing in real estate is one of the most profitable and proven strategies for generating stable passive income, building wealth and retiring early.
With uncertainty and volatility running rampant in the financial markets, it's hard to find an investment that will generate 10% to 20% returns year after year.
Yet these returns are very realistic with rental properties. If you want to retire early and reach financial freedom in your 40s, 30s or even 20s, real estate will help you get there.
If you're not investing in real estate right now, you are leaving serious money on the table.
But doesn't real estate take a lot of time, effort, know-how, connections and money? I sure thought so when I first became interested in buying rental properties. In fact, I almost gave up because the process seemed so overwhelming...
That was until I discovered turnkey investing, which helped me buy my first 4 rental properties within the first year and start earning consistent passive income from day one.
What Is Turnkey Real Estate Investing?
Buying turnkey properties allows you to skip the process of finding undervalued homes, managing extensive rehab projects and leasing them to prospective tenants.
When you buy a turnkey property, you get a fully rehabbed rental, often with a tenant already in place. You don't have to worry about managing a rehab and you can start collecting rental income from the day you sign the purchase documents.
Turnkey properties are also sold completely off-market, directly to you. You buy them for the listed price and avoid the bidding war that commonly takes place with traditional sales.
Although you still need to do some research and due diligence, the turnkey process can help you buy properties faster, with much less effort and without the need to build an extensive real estate network.
Live Where You Want, Invest Where It Makes Sense
One of my favorite advantages of turnkey investing is the fact that you can live where you want, but invest in areas around the country where you can maximize your returns.
If you live in an expensive city like me, you know that it can be very difficult to find cash-flowing rental properties locally. And even if you do, their ridiculously high prices mean that you can't grow your real estate portfolio quickly.
With turnkeys, you can overcome geographic boundaries and buy rental properties in any city. You can find great turnkey properties for under $75k and buy them with as little as $15,000 in cash.
Turnkey investing is a perfect strategy to buy your first rental or diversify your portfolio in different markets. It helped me get started and I know it can work for you too.
Everything You Need to Know in One Comprehensive, Step By Step Course
Investing in real estate and buying your first turnkey property may seem intimidating. The truth is it's really not. Real estate investing does not require special skills, college degrees or advanced training.
You can learn the basic principles of finding, financing, buying and managing rental properties in just a couple of weeks and that's exactly what this course will teach you.
Turnkey investing is a relatively new concept and unfortunately there are very few resources geared specifically for turnkey investors. I had to read dozens of articles, websites and forum posts before I felt comfortable buying my first property.
I wrote this course to give you a single, step-by-step guide that covers the entire process of buying your first turnkey property from start to finish.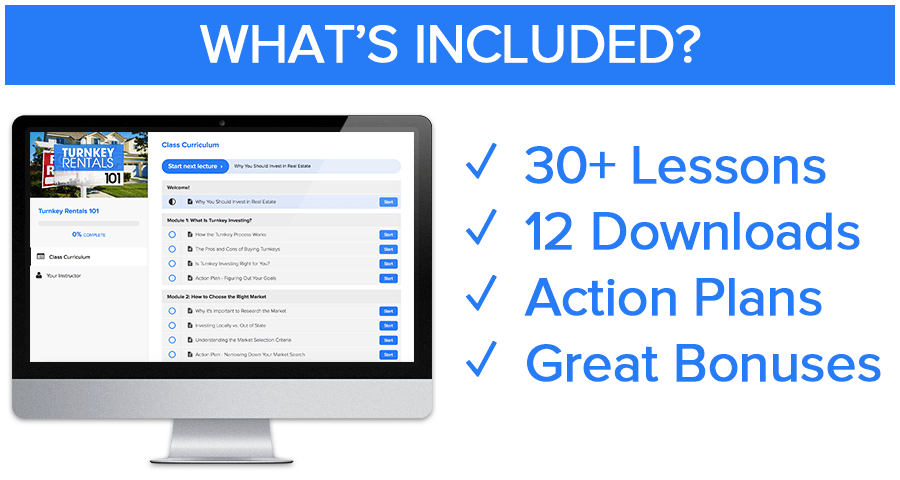 Turnkey Rentals 101 is an online, self-paced course. It consists of 8 modules with over 30 lessons, 12 downloadable files (including worksheets, spreadsheets, turnkey & lender directories, interview templates and more) and great bonuses.
You'll learn everything you need to know to buy your first rental property, including:
How to narrow down and select a great rental market
How to find a reputable and reliable turnkey company
Which financing options will work best for you
What to look for in a good neighborhood
How to calculate cash flow projections
What inspections to order during the purchase process
How to pick a reliable property manager
And much more!
Based on 100+ hours of research and experience, as well as interviews with over a dozen successful investors, this course is the most comprehensive and complete guide to turnkey investing you'll find online.
Check out the full course curriculum below (you can even preview some of the lessons).
Course Curriculum
Welcome!
Available in days
days after you enroll
Module 1: What Is Turnkey Investing?
Available in days
days after you enroll
Module 2: How to Choose the Right Market
Available in days
days after you enroll
Turnkey investing is a proven strategy for buying great cash-flowing rentals in any market.
This course will teach you exactly what you need to do to find the best properties and get the highest returns for your money.
Start building your real estate portfolio TODAY:
Your Instructor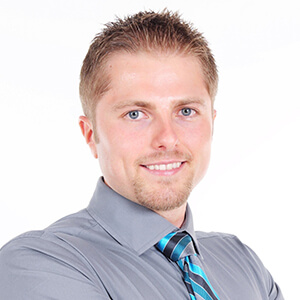 Hi there,
I'm Anton and I am a real estate investor and entrepreneur from Rio Rancho, NM.
I went from owning no properties (not even my own home) to building a portfolio of 40 rentals in just 5 years. My properties are spread out across four states and generate over $15,000 in passive income each month.
Turnkey investing was the key that helped me get started. At a time when I was working full time and knew nobody in the real estate business, it allowed me to buy my first rentals with minimal time and effort. And all of those properties are still going strong today!
I meet a lot of people who are interested in real estate, but need help getting started. If you're one of them, I know that this course will give you the knowledge, tools and confidence to buy your first rental property.
Frequently Asked Questions
Who is this course for?
This course is for anybody who is interested in growing their passive income and wealth through real estate. No matter your age or current financial situation, you will learn how to get started and buy your first rental property. You don't need any prior experience, but if you've already bought a few properties, you may still learn a thing or two!
What if I work full time?
Since this course focuses on buying turnkey properties, it is perfect for those with full-time jobs, who don't have a lot of time to dedicate to real estate. It will teach you all about finding the best properties quickly and efficiently and outsourcing property management, so you can focus on what matters more in your life.
What if i have limited cash to invest?
Many people overestimate how much cash they need to buy their first rental property. Turnkey rentals are available in virtually any city and you can buy many great homes with as little as $10,000 - $15,000 in cash. This course also explores alternative financing strategies you can use to minimize your upfront cash requirements.
Does this course work for those outside of the United States?
One of the main advantages of turnkey properties is that you can buy them in any market, in the US or abroad. If you live outside the United States, but want to buy US properties, this course will teach you how to do that. And even if you want to buy property outside of the United States, the majority of the information in this course will still apply.
When does the course start and finish?
The course starts now and never ends! It is a completely self-paced online course - you decide when you start and when you finish. You can also come back and re-read any lessons at a later date to refresh your memory.
How long do I have access to the course?
How does lifetime access sound? After enrolling, you have unlimited access to this course and all of the included downloads for as long as you like - across any and all devices you own.
How is the course content delivered?
This is a text-based course that is taught through tutorials, PDFs and helpful worksheets. After you register, you will receive an enrollment email with your unique login information and will be able to access the course content immediately.
What if I am unhappy with the course?
If you are not satisfied with the course, you can get a full refund within 30 days of your purchase. Before requesting a refund, please make sure that you complete the course and take action on the information you learn. None of the advice, tips and methods described in the course will work if you do not act on them.
I have other questions!
If you don't see your question answered here, please send me an email to
[email protected]
, and I will be happy to help you out.
Worksheets, Checklists, Action Plans & Other Resources to Help You Succeed
Turnkey Rentals 101 is a practical how-to guide that you can follow along as you begin your search for turnkey properties.
Each module concludes with an action plan that will help you implement what you learned and take immediate steps to get you closer to buying your first rental property.
You'll also get the following resources to help you:
Worksheets
Real Estate Goals Worksheet: To help you figure our your short and long-term goals, set realistic expectations and make sure your finances are in good shape.
Market Selection Spreadsheet: A pre-filled breakdown of the top 50 rental markets in the US, complete with economic, population and growth statistics.
Property Criteria Worksheet: To help you determine the exact neighborhood and property criteria you'll use to narrow down your turnkey search.
Checklists
Turnkey Purchase Checklist: A complete checklist of everything you need to do at each step in the purchase process to make sure you don't forget the important things.
Interview Questions
The turnkey company, lender and property manager you decide to work with will have a big impact on you success as a real estate investor. You'll get my complete interview templates that you can use when talking to these people to help you figure out if they're right for you:
Turnkey Company Interview Questions
Lender Interview Questions
Property Manager Interview Questions
Directories
Turnkey Company Directory: 15+ turnkey providers in the most popular rental markets across the country.
Investor-Friendly Lender Directory: 8 lenders that offer conventional and portfolio loans in all states and are known to be investor-friendly.
You can download and save all of the above files to your computer or access them online at any time.
You'll Also Get These FREE Bonuses
Everyone loves bonuses, right? When you enroll in this course, you'll get free access to the following:
Bonus #1: A Comprehensive Real Estate Glossary
Ever wonder what people mean when they say NOI, cap rate of vacancy rate? Or how to correctly calculate the monthly cash flow or cash on cash return? This course comes with a detailed real estate glossary, complete with explanations and calculation formulas for the most common real estate terms and concepts.
Bonus #2: Must-Have Real Estate Apps & Tools
There are many great websites and apps that can help you calculate cash flow projections, estimate market rent, find price comps and sign documents electronically. You'll get a list of the the top 10 tools every real estate investor should be using.
Bonus #3: Free Report - 5 Ways Turnkey Companies Inflate Cash Flow Projections
Unfortunately not all turnkey companies are honest and transparent with their clients. Many use deceptive tactics to inflate the cash flow of their properties to make them seem more attractive. This free report will explain the most common ways they do this and what you can do to avoid getting scammed.
Bonus #4: Lifetime Email Help
I tried to cover absolutely everything in this course, but I know you may have some specific questions along the way. When you enroll, you'll get 24/7, lifetime access to me via email. From helping you better understand the course material to double-checking your cash flow analysis - I'll be there if you need help.
Enroll now to get instant, lifetime access to all course materials mentioned above:
Here is What Some of the 750+ Former Students Are Saying: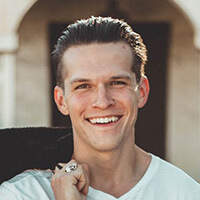 " I have to tell you, this course finally helped me overcome my doubts and pull the trigger on my first turnkey purchase. I spent close to a year reading books and blog posts and just felt overwhelmed with all of the information. This course put everything in perspective and filled in the gaps. "
Brian, WA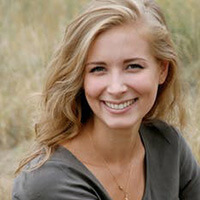 " Anton is a great teacher and does an excellent job breaking down a complex process of buying a rental property into small, manageable steps. My favorite part were all of the worksheets and interview questions - they were super helpful! "
Kathy, CA

" I worked through this course after I already bought one turnkey. Man, do I wish I read this before I got started. It would've saved me a lot of headaches and disappointment. I'm now using Anton's advice to look for my second rental, this time being a lot pickier with the area and cash flow numbers. "
Richard, NY

" This is a fantastic course, I highly recommend it! Well worth the price, considering all of the info, worksheets and PDFs you get along with it. "
Chris, CO

30-Day Money Back Guarantee
Turnkey Rentals 101 combines my very best strategies that helped me buy cash-flowing turnkey properties out of state and build a portfolio of 35 rentals in just 5 years. And I've taught these strategies to over 750 other students.
But if for some reason this course doesn't work for you, I'll gladly give you a full refund within 30 days.
30 days?! You betcha! Unlike most courses that have no guarantee at all, I want to give you time to try my methods and actually apply them. I am more than confident that this course will work for you, just as it has helped hundreds of other investors.
Still Not Sure If This Course Is Right for You?
Unlike many other "educational products", this course doesn't come with any sales pitches, seminar upsells or property advertisements. Its only purpose is to teach you how to become a successful real estate investor and buy your first turnkey property, step-by-step.
This is a perfect opportunity if:
You want to start building a portfolio of cash-flowing rental properties, but don't know how to start
You live in an expensive area and want to invest out of state for better returns
You have a full time job and can't dedicate hours each day to real estate investing
You want a complete, step by step guide that will walk you through the entire process of buying your first rental property form start to finish
If you can answer YES to any of the above, I am 100% confident you're going to love this course!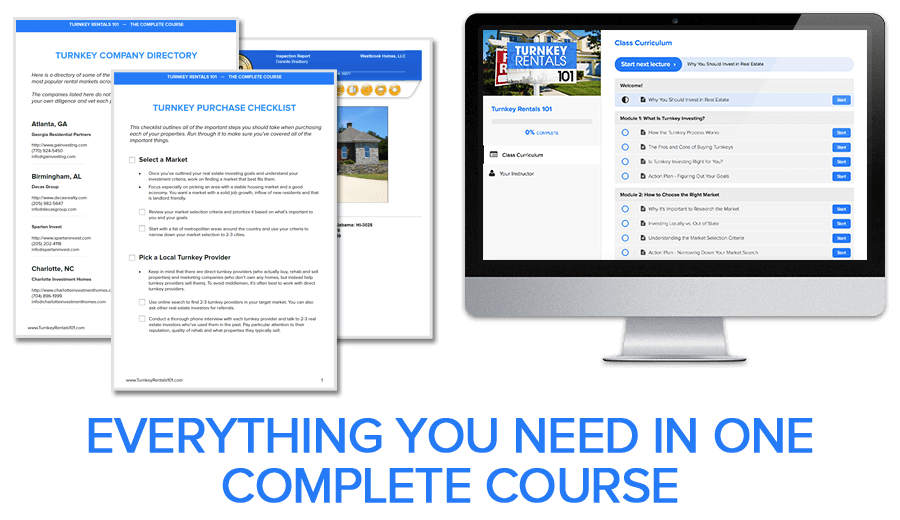 This is your chance to learn everything you need to know to buy your first rental property and start your journey to financial freedom: